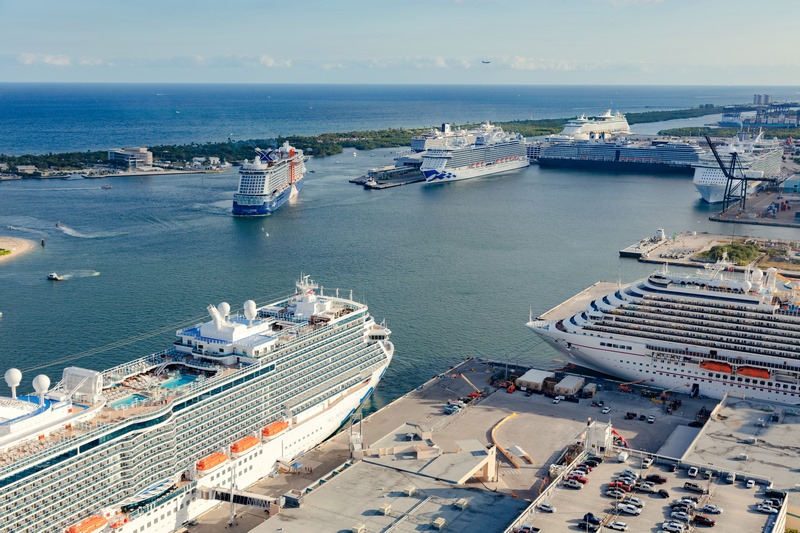 Background
The Port Everglades Harbor Improvements Project (PENIP) when completed in 2030, will create more than 1,500 permanent and direct jobs resulting from vessel cargo capacity. This expands Broward County's Port Everglades position as a hub of international trade and commerce. It is designed to enable safe passage of today's larger, efficient cruise, bulk, petroleum, and deep draft Neo-Panamax cargo ships (those formerly too large to fit through the Panama Canal before the expansion). Port Everglades harbor pilots need a deeper and wider channel to bring these longer vessels safely to berth while negotiating external environmental factors such as wind, waves, and currents. Widening the channel is critical due to a chokepoint in the Intracoastal Waterway that prohibits larger cargo ships from passing docked cruise ships because the channel is too narrow to safely transit to and from the southern part of the Port where containerized cargo operations take place.
Current Status
The certified PENIP cost of $843.5M will be paid with Port Everglades revenue generated through port user fees, federal appropriations, and state grants. No local property taxes will be used for this project because Port Everglades is a self-funded enterprise of Broward County. This is a significant investment in Port Everglades and Broward County's future. This is a complex project because of Port Everglades' unique environment — manatees, corals, limestone hardbottom, and seagrasses, so, we are investing in additional environmental mitigation and monitoring, as well as the implementation of a robust adaptive management plan. We have one opportunity to get the environmental piece right. We are committed to adding science-based environmental considerations and mitigation activities that will ensure that our unique natural environment and wildlife are protected for the duration of the construction process such as protocols to limit turbidity and damage to coral through best practices learned from dredging at other ports. We intend to deliver a project that has a high return on investment and is environmentally sensitive.
About Broward's Port Everglades
Port Everglades currently generates $32 billion in economic activity annually and more than 10,000 direct jobs in South Florida. It is the region's main seaport for receiving petroleum and jet fuel, a top container port in the state, and is one of the top three cruise homeports worldwide. The PENIP project ensures that Port Everglades remains competitive and can safely receive and efficiently service large, environmentally efficient cargo vessels that will continue to fuel the South Florida economy. Timing for this project is essential as older fleets are being replaced with much larger ships and Port Everglades already handles large ships from Europe, South America, and India that must be lightly loaded because of safety constraints caused by the need for additional width and depth in the channel. The chokepoint in the Intercoastal Waterway, where the 65-year-old Coast Guard station juts into the channel, means large cruise and cargo ships must wait at anchor because the waterway is too narrow to safely transit to and from the southern part of the Port if a large cruise ship is docked in the channel. This is inefficient, and this raises costs for the shipper, making Port Everglades less competitive.
For more information on Port Everglades, visit porteverglades.net or e-mail PortEverglades@broward.org.